Programs During The Pandemic
We're offering safe and clean environments for enrichment for your family. Be assured we sanitize before and after each program, pre-screen and temp check guests, guest must wear masks, and we practice social distancing
Eco Safari Drive-Thru Event and Fundraiser
June 13th & June 20th, 10 am-noon  
RSVP to ecoadventuresmd@gmail.com
Have the quarantine blues? Grab your family, hop in your car and head on over to Eco Adventures for a drive-through live animal safari! Meet our amazing animal ambassadors LIVE through the comfort of your vehicles - and some FUN games while you wait!  See live alligators, snakes, armadillo, Chameleons, hedgehogs, and more! $10 donation per vehicle, appreciated going towards the care of our animals.  We will also kick off a silent virtual auction later on that day and will be putting out the baskets for your viewing pleasure without even getting out of your car! Those who attend can see the baskets and have first dibs at bidding before we post on Facebook. Auctions items include "Driveway" Birthday party, Spa Day with Gigantor, One-day camps, quarantine "survival" baskets, home improvement basket, Summer Fun basket, and more! 
 $10 suggested donation per car (cash only/exact change preferred)

June 20th is Virtual Silent Auction   ***we will make the call for RAIN cancellation by 8am
Raindate is June 27th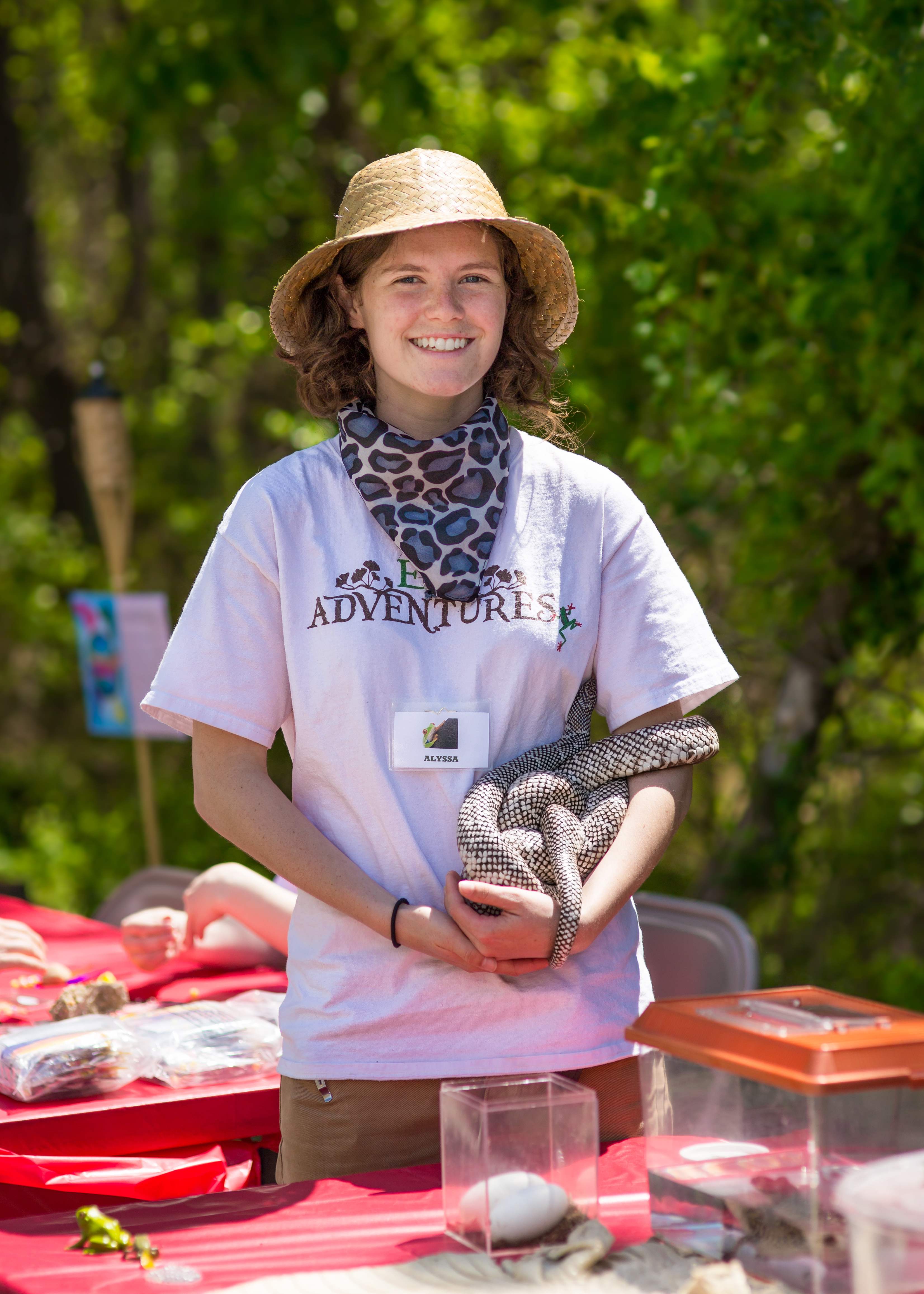 At Eco Adventures:
Sign up for a private and safe one hour "behind the scenes" tour of Eco Adventures where you can feed and interact with some of our most beloved animals.   Learn and meet some of our rescued animal's stories. Discover what it takes to be a Animal Keeper or a Trainer and care for over 100 animals at Eco Adventures.
It's a Feeding Frenzy out here - as YOU experience the thrill of feeding and training a gator or a croc, or Max, our 50 lb tortoise, or even a dragon! Give our mammals some enrichment by offering some of their favorite "toys", foods, running ball, or even some cuddle time with our newest baby kinkajou- LUNA or armadillo- BOO!
Price:  Reduced price during the pandemic: $25 per person with 4 person min or $100 - Preferably for children 4+ years.   This special offer ends June 30th.  Staring 7/1, pricing returns to $35/person, with 3 person minimum or $105 min.   This is a one of a kind opportunity for you to experience Eco Adventures in a more private setting with just your family, led by one of our animal care specialists.
*Perfect for small parties, celebrations, or family gatherings!
Email us to book an appointment at ecoadventuresmd@gmail.com
Testimonial
Dear Eco Adventures Team,
My family came in for a feeding frenzy on Saturday, June 13th, and I just wanted to thank you all for making it such an incredible experience! Ms. Amanda and Ms. Jessica were absolutely amazing! They were super knowledgeable, and took the time at each station to let us really enjoy and appreciate each animal! They were also extremely patient and kind with my children, especially when guiding them in holding and feeding the animals. My kids left on Saturday with huge smiles on their faces, and they are inspired now more than ever to work with animals when they get older! This experience was such a highlight and bright spot amid all the changes and things they've had to miss out on, and Ms. Amanda and Ms. Jessica are what made this such a wonderful memory for our family. Thank you all again for everything!!!!
Sincerely,
Amanda Smith
NEW: Virtual ZOOM Feeding Frenzy Tour
Did you know Eco Adventures has over 100 animals, many of them rescued?  In this 40 minute tour of Eco Adventures, you and your family will meet and learn about our rescued animals and their stories.   Walk with us, through our exhibits as you see and hear the sights and sounds of our rainforest.   Then experience the thrill of an animal feeding and /or training.  Whether it's feeding and training a gator or a croc, or Max, our 65 lb tortoise, or offering a cute kinjajou or armadillo their favorite enrichment toys...each Feeding Frenzy is always different.   Sign up now!
Fee: $20   ( Dates TBA)

Private "Family Reunion" or celebration Tour with only your family/guests- up to 5 computer/ links/or families:   $100  *each additional guest "computer/link/or families": $15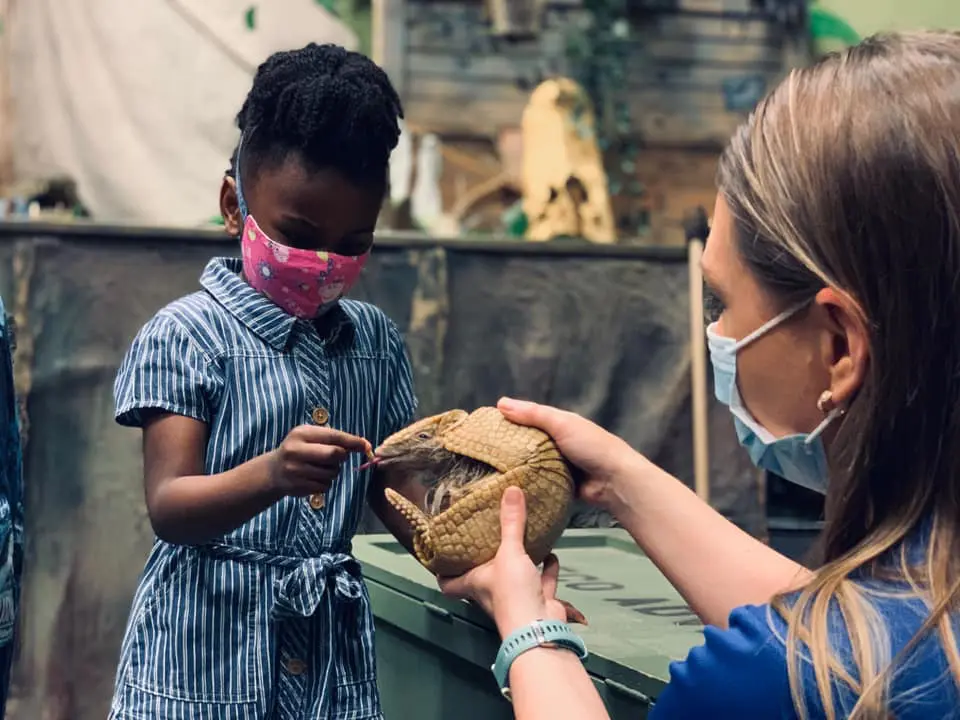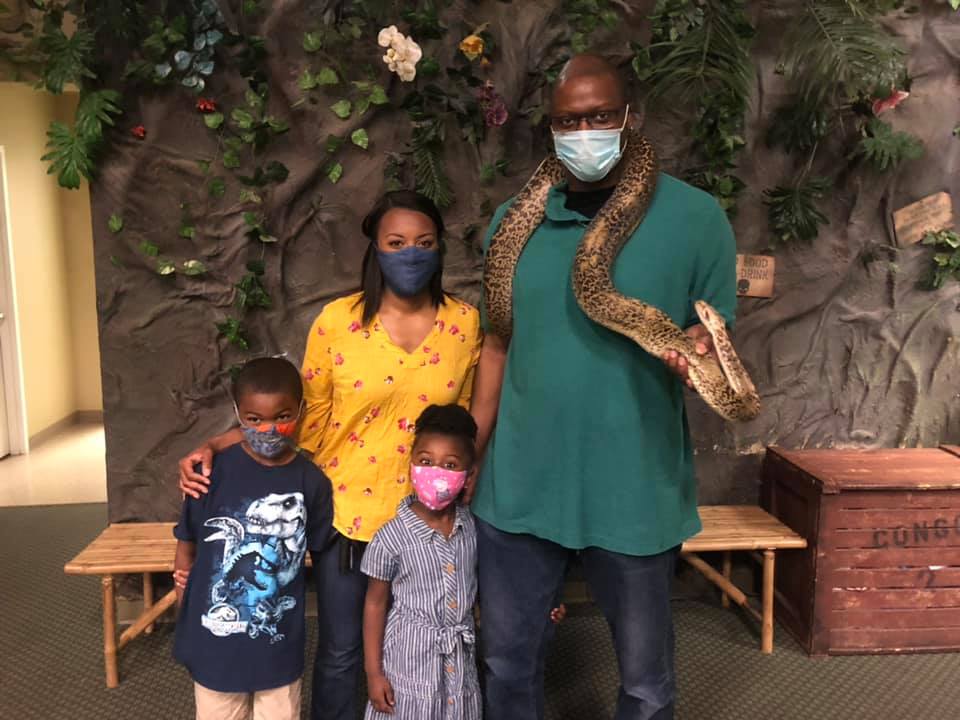 Birthday Parties or Celebrations!
Driveway SAFARI Parties (1 hr)
Can't come to us? We'll come to you for an outside driveway party!  Don't let the quarantine get you down on your special day- Celebrate your graduation, anniversary, birthday, Father's Day, and more! We bring a variety of animals for a dynamic presentation that includes live animal interactions, all while staying safe!  Fee: $300
For outside locations within 30 mins only and no apartments or townhomes with parking lots. Must have ample space for social distancing. No bystanders allowed.
"Party Animals" at ECO Adventures  (1.5 hrs)
You can still enjoy your own private celebration and party with the animals in our rainforest themed facility!  This party includes 1 hr  with animal interactions and 30 mins with food/cake portion of the party. Fee: $325
_____________________________________________________________________________________________________________
COVID safety requirements:  For up to 14 people (kids/adults) total as per state rules.   Will temp check all participants, require a participation waiver,  and practice social distance.  All adults will need to wear masks and children will need to wear masks during the animal interaction/touching portion of the party.   Hand sanitizer will be available. Drop off party only or adults must be inside.
______________________________________________________________________________________________________________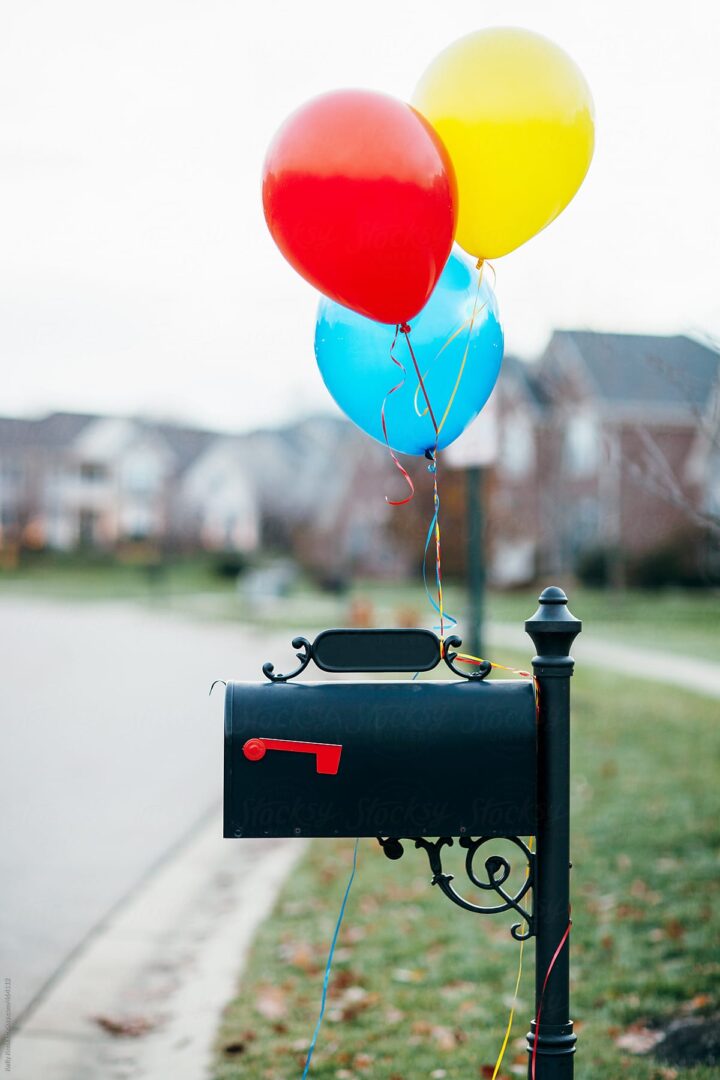 For those who can't come to us for a field trip or we can't come out to you this year? That's...ok... We'll take the ADVENTURE to you! Our expert Eco instructors will guide you through different habitats and topics and still include Eco Adventure's amazing animals, artifacts, exhibits, and activities, in an interactive virtual lesson. Students can not only see our instructor in real time but can ask questions and interact along the way- see LIVE animals do their thing- How do they move? How do they eat? How do they survive?  How do they play? ...- all in an exciting and fun format. This is no ordinary, boring, lesson! Are you ready to "Experience the Extraordinary"?
We can customize to various themes.  Or choose from: Jungle Safari, Animal Olympics, Fear Factor, Animal Superpowers, Aliens among us, Under the Sea, Turtletacular, and many more!
Fees: $200 for up to 100 participants.  $250 for up to 200 participants.  Call to inquire about rates for over 200 participants.
Approximately 45 mins to 1 hr presentation
VIRTUAL FIELD TRIP ADVENTURES FOR SCHOOLS/CAMPS:  For up to 1 hour
Choose from 2 rotations (see field trips tab for rotation descriptions)
Fees:  $275 for up to 100 children, $2 more per child after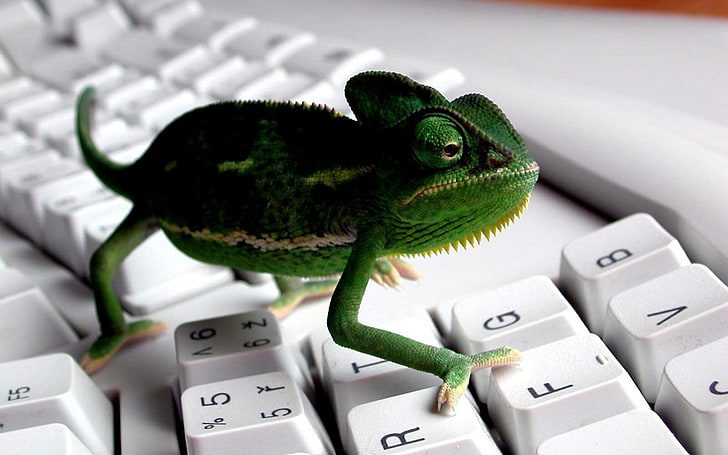 Can't come to us? We can bring the adventures to you!  Take a break from the real world and join us for a new way of learning!  Our expert Eco instructors will guide you through different habitats and topics and still include Eco Adventure's amazing animals, artifacts, exhibits, and activities, in an interactive virtual lesson. Kids can learn from our instructor all in an exciting and fun format with our live animals as guests!  Pre and post hands-on activities will be included to do at home that may last weeks to complete.  ACTivities may include games, scavenger hunts, crafts, and even REAL artifacts in each box they can explore  with the instructor during the virtual lesson! Lastly, we hope to inspire your kids to "ACT" with ACTivities and ACTion items to do something positive for our planet with some conservation ideas and goals.  This is no ordinary, boring, lesson! Are you ready to "Experience the Extraordinary"?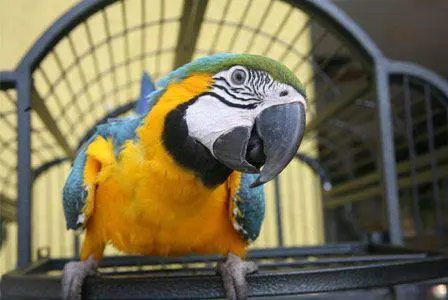 Animal Gram! Personalized Messages
Can't be there to celebrate? Send a thoughtful personalized message with their favorite animal. Whether it's a graduation, birthday, anniversary, special occasion or just because… Our animal expert will do a 4-minute show and tell of their favorite animal.
Includes:
 3-5 sentences for personalized message

Choose from: Kinkajou, African spur-thighed tortoise, Albino Burmese python, American alligator adult or baby,  Three-banded armadillo, Argentine Tegu, Hedgehog, tarantula, bearded dragon. 

Fee: $40   

Dr. Brady Barr (National Geographic TV host/herpetologist, author, ECO owner) personalized animal gram $60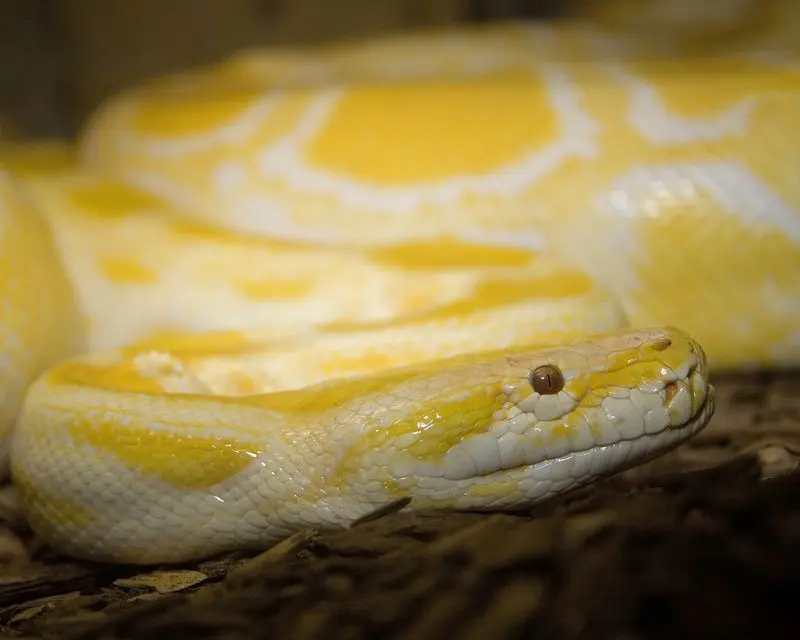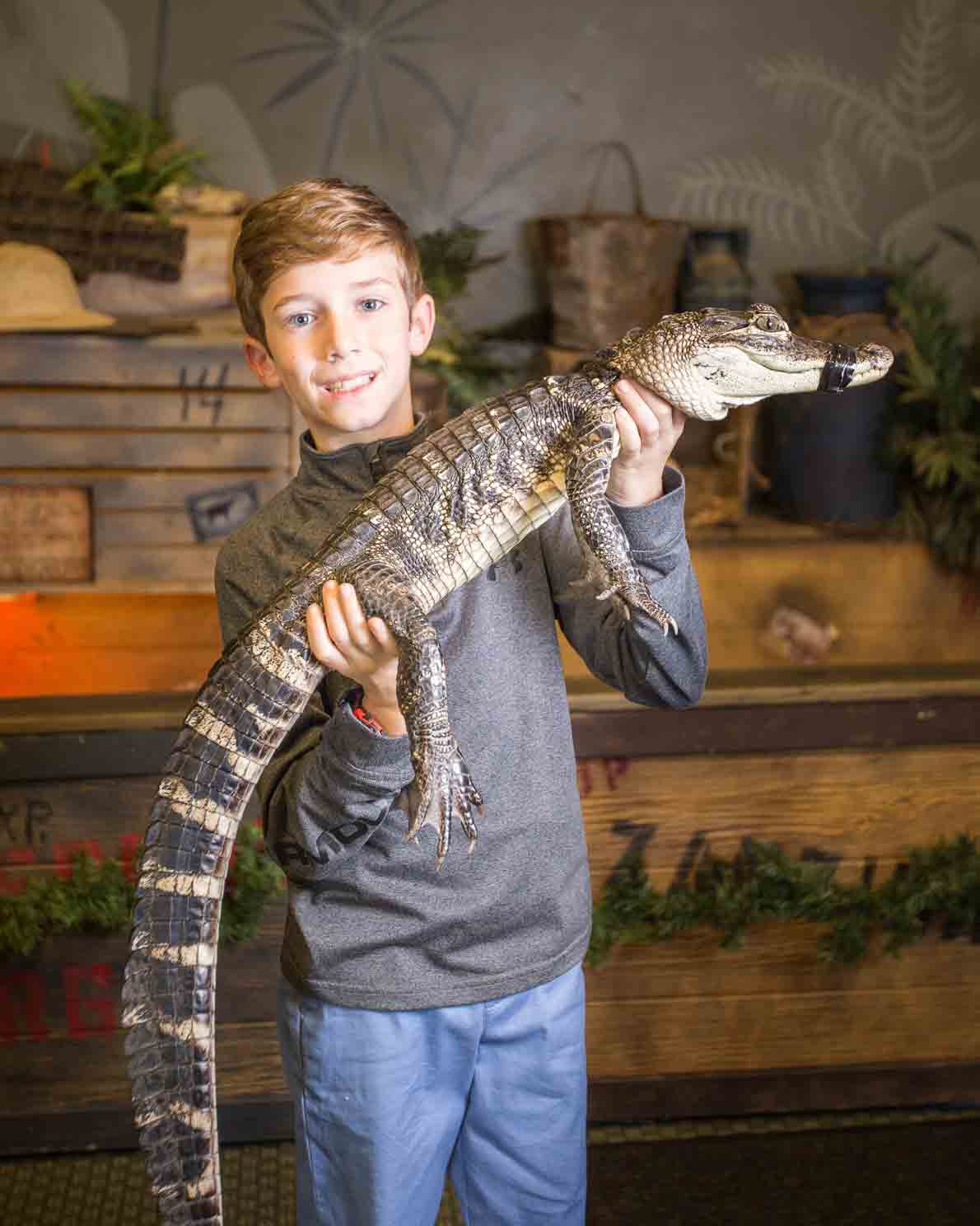 Bedtime Story Readings on Facebook
 7 pm on Fridays (ages 2-6)  (Free of charge)
"Gator under my bed?"  Friday, June 5th
Brush your teeth, put on your Pj's and join us online for Mercer Mayer's classic, There's an Alligator under My Bed. This is the story of a boy who is sure there is an alligator living under his bed and his plan to lure it out. We will be reading the story live on Facebook with some of our very own gator friends and we'll be offering them a bedtime snack! 
Prickly Hedgehog Friends   Friday, June 12th live reading on Facebook 
Time to get cozy under your covers as we read Rosie Wellesley's, The Very Helpful Hedgehog. Isaac the hedgehog learns that it is better to have a friend and to be helpful than to be on your own all of the time. We will be reading the story live on Facebook with one of our very own hedgehogs!