Feeding Frenzies- MOST POPULAR!!
At Eco Adventures:
Sign up for a private and safe one-hour "behind the scenes" tour of Eco Adventures where you can feed and interact with some of our most beloved animals.   Learn and meet some of our rescued animal's stories. Discover what it takes to be an Animal Keeper or a Trainer and care for over 100 animals at Eco Adventures.
It's a Feeding Frenzy out here - as YOU experience the thrill of feeding and training a gator or a croc, or even a dragon! Give our mammals some enrichment by offering some of their favorite "toys", foods, running ball, or even some cuddle time with our hedgehog or armadillo- BOO!
Price:  This is a one of a kind opportunity for you to experience Eco Adventures in a more private setting with just your family/friends, led by one of our animal care specialists.  $45 per person, with 3 person minimum or $135 min. For over 5 people or more, it is $40 per person.
*Perfect for small parties, celebrations, or family gatherings!
Email us to book an appointment at ecoadventuresmd@gmail.com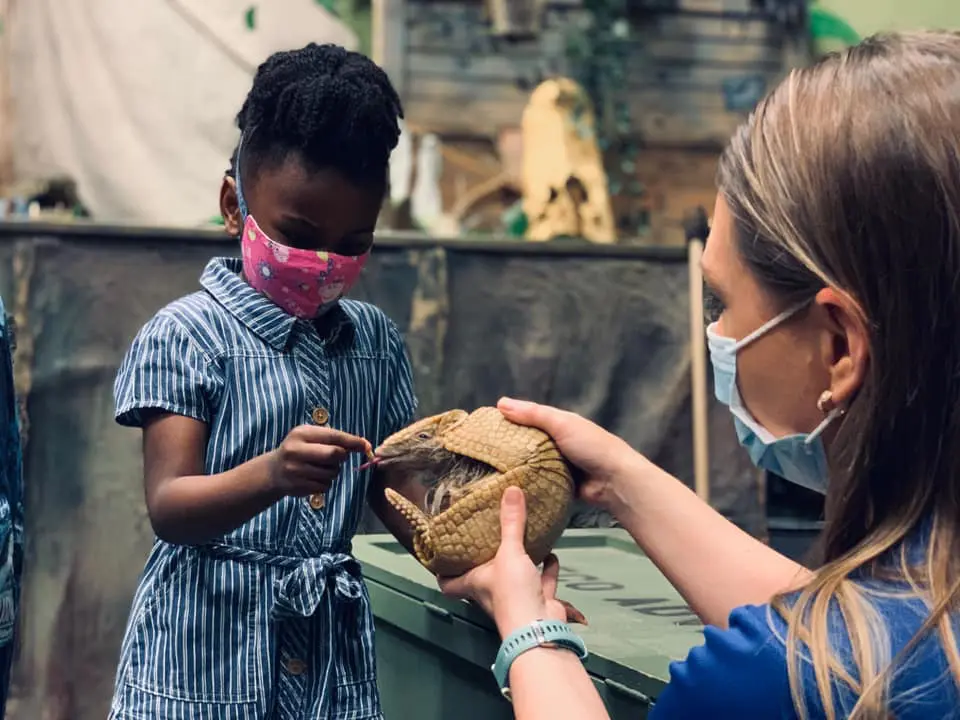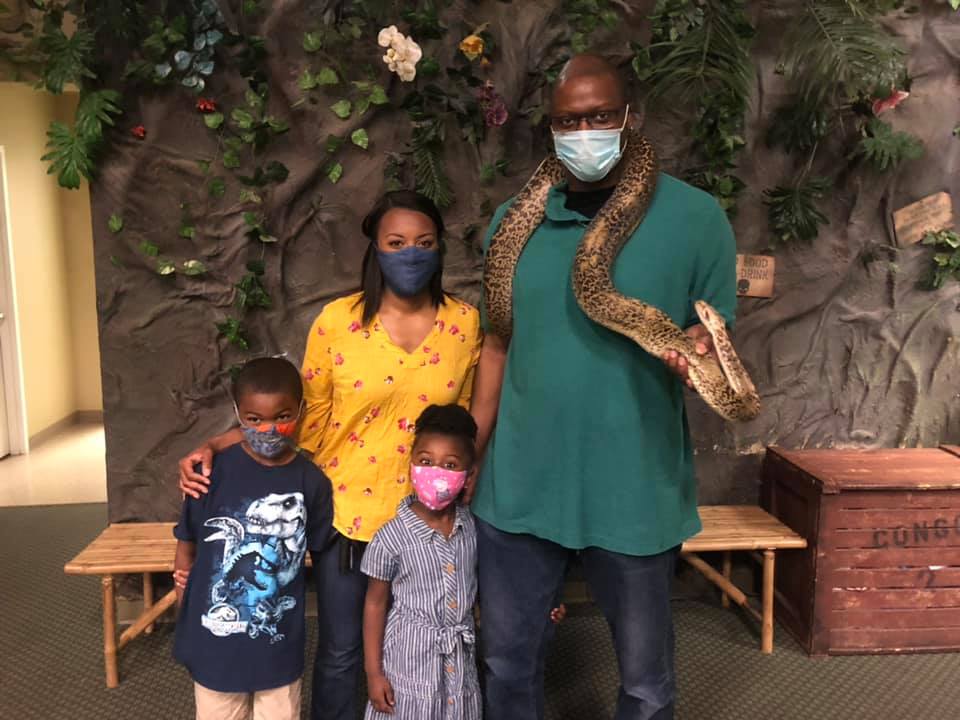 What to do in a pandemic- in the winter??? Come MONKEY Around in our Jungle and book a 1 hr PLAY session with our animals. Perfect for private playgroup "social bubbles" and families with kids ages 6 and under. ! Visitors will meet, touch, and PLAY with some of our most loved animal ambassadors for 30 mins, then kids can get the wiggles out and PLAY organized games with the instructor while parents socialize. Can't go wrong here-kids can get exercise, socialize, play with animals all in a SAFE environment while parents take a breather-  Go ahead sign up...you all deserve a break!Fee: $150 for up to 10 people not counting (children under 2 and under)
*inquire if there are more people in your group/space is limited   * Receive a Discount for 3 or more bookings for your group
*Available Mondays 9-10am or after 1pm, Tues 9am-4pm, and weekends 10-11am or by appointment based on schedule
To register: email ecoadventuresmd@gmail.com with 2 preferred dates and times, number of adults/children and ages of children., phone #.
*COVID SAFETY: Masks (ages 2+), prescreening/waiver, social distancing, and temp checks are required. Have HEPA UVB filters and extra ventilation. We sanitize before and after each program.
_____________________________________________________________________________________________________
* Help us survive the pandemic by collecting food donations and supplies for us! Donation items needed under wish list on our homepage. Thank you for your support!
*Approved toys for animals are welcome- email us!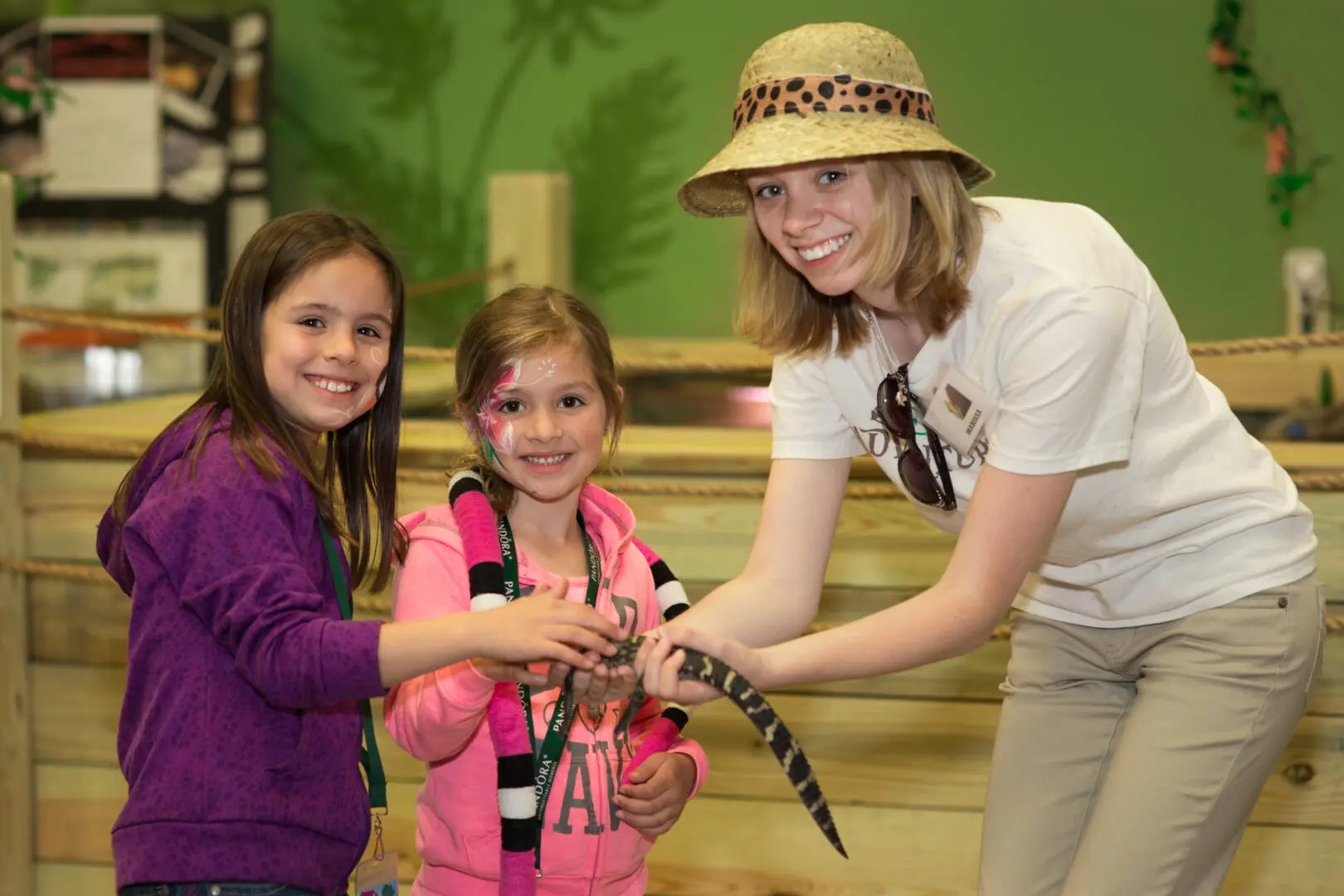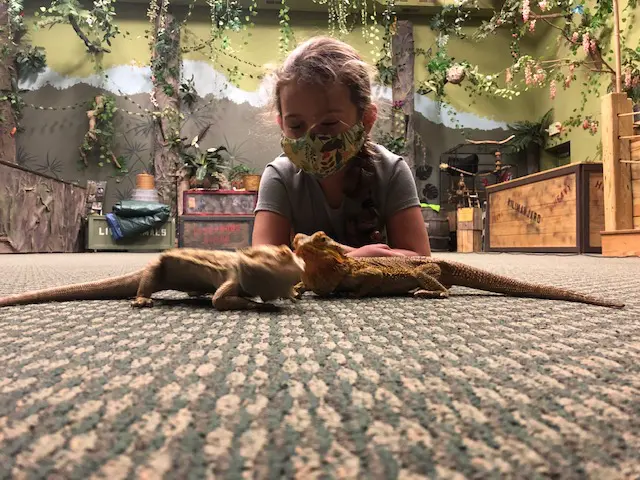 NEW: Virtual ZOOM Feeding Frenzy Tour  OR Private ZOOM Birthday Party Safari
Did you know Eco Adventures has over 100 animals, many of them rescued?  In this 40 minute tour of Eco Adventures, you and your family will meet and learn about our rescued animals and their stories.   Walk with us, through our exhibits as you see and hear the sights and sounds of our rainforest.   Then experience the thrill of an animal feeding and /or training.  Whether it's feeding and training a gator or a croc, or offering a cute kinjajou or armadillo their favorite enrichment toys...each virtual experience is always different.   Sign up now!
Private "Family Reunion" or "Birthday Party Safari" celebration with only your family/guests-
Fee: $200  for one hour zoom program, with up to 30 zoom links .
For those who can't come to us for a field trip or we can't come out to you this year? That's...ok... We'll take the ADVENTURE to you! Our expert Eco instructors will guide you through different habitats and topics and still include Eco Adventure's amazing animals, artifacts, exhibits, and activities, in an interactive virtual lesson. Students can not only see our instructor in real time but can ask questions and interact along the way- see LIVE animals do their thing- How do they move? How do they eat? How do they survive?  How do they play? ...- all in an exciting and fun format. This is no ordinary, boring, lesson! Are you ready to "Experience the Extraordinary"?
We can customize to various themes.  Or choose from: Jungle Safari, Animal Olympics, Fear Factor, Animal Superpowers, Aliens among us, Under the Sea, Turtletacular, and many more!
Fees: $250 for up to 100 participants.  $350 for up to 200 participants.  Call to inquire about rates for over 200 participants or special events.
Approximately 45 mins to 1 hr presentation
VIRTUAL FIELD TRIP ADVENTURES FOR SCHOOLS/CAMPS:  For up to 1 hour
Choose from 2 rotations (see field trips tab for rotation descriptions)
Fees:  $350 for up to 100 children, $2 more per child after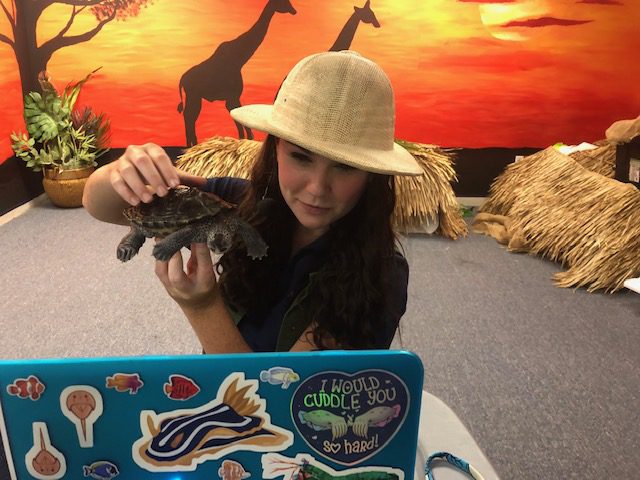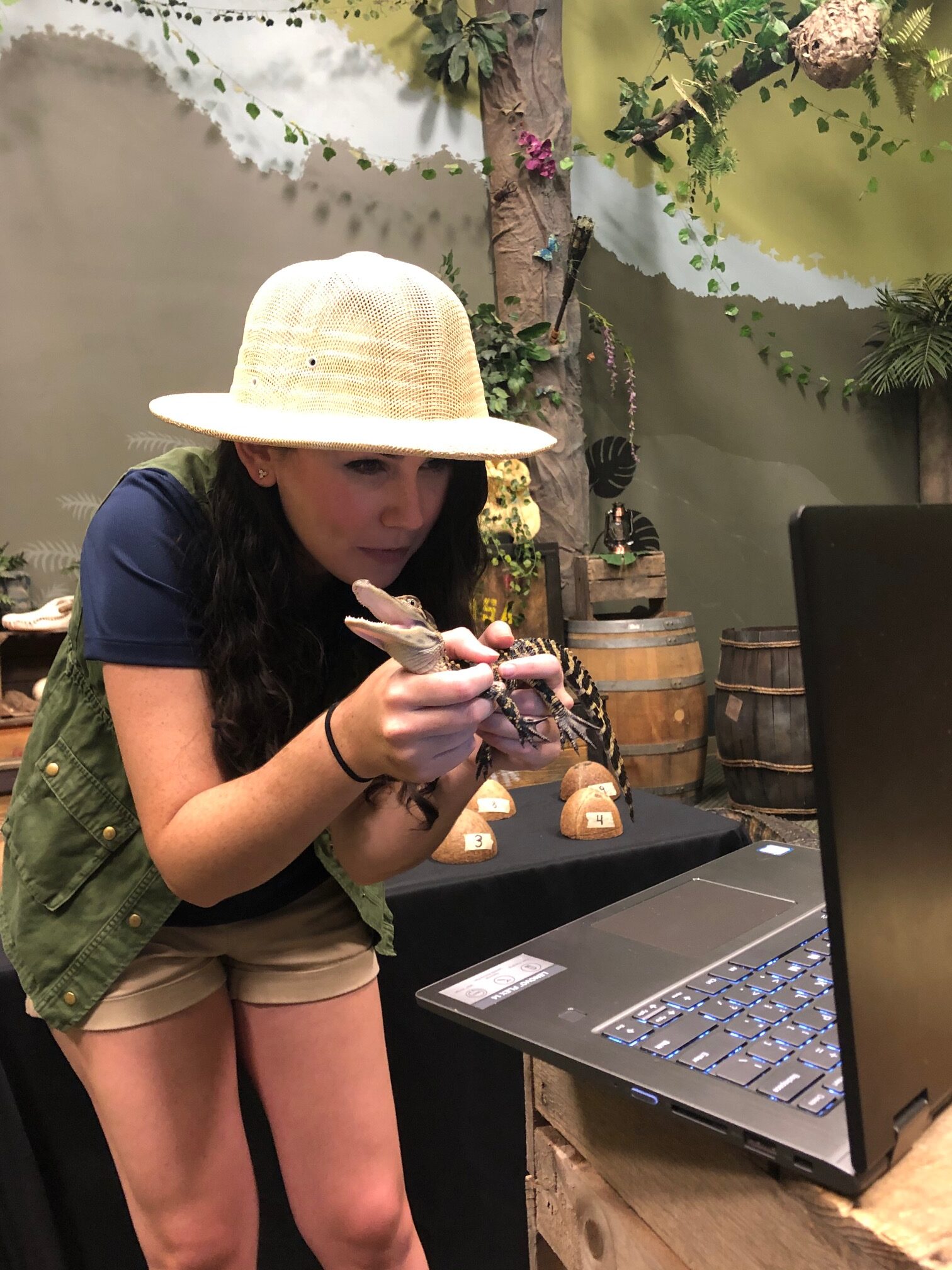 Can't come to us? We can bring the adventures to you!  Take a break from the real world and join us for a new way of learning!  Our expert Eco instructors will guide you through different habitats and topics and still include Eco Adventure's amazing animals, artifacts, exhibits, and activities, in an interactive virtual lesson. Kids can learn from our instructor all in an exciting and fun format with our live animals as guests!  Pre and post hands-on activities will be included to do at home that may last weeks to complete.  ACTivities may include games, scavenger hunts, crafts, and even REAL artifacts in each box they can explore after viewing a virtual lesson! Lastly, we hope to inspire your kids to "ACT" with ACTivities and ACTion items to do something positive for our planet with some conservation ideas and goals.  This is no ordinary, boring, lesson! Are you ready to "Experience the Extraordinary"?< /span>
RAINFOREST ECO BOX- Call to inquire
FOSSIL FRENZY ECO BOX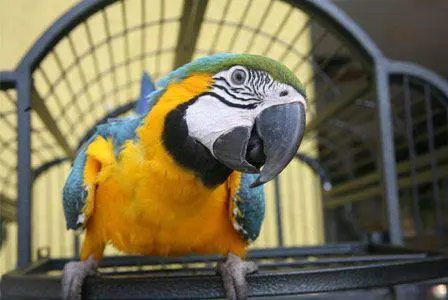 ESCAPE ALIVE...from our Jungle!
Are you and your family BORED and looking for something SAFE to do ?? Why not book a day or evening of ADVENTURE! Escape Room: Escape Alive?!
Your plane has gone down in the depths of the Amazon rainforest. You are over a thousand miles from civilization. Other than the supplies in your backpack, you are without food and water. It is hot, humid and dangerous animals are lurking in every corner. Other explorers have gone before you in this mystic rainforest but only ONE has ever escaped ALIVE. He told of a gigantic snake that swallowed his fellow adventurers alive. This Gigantic snake can swim, climb and camouflage and still roams the very jungle you find yourself in. Furthermore, you are surrounded by venomous spiders, croc infested waters, poison dart frogs AND an exploding VOLCANO! Using only the items in your backpack and clues left by past explorers, can you escape the jungle before the volcano erupts?...or the snake finds you!!?? Find the walkie talkie to signal for help...or will you get out ALIVE???
$35 per person with 4 person minimum or $140 * 10 person  Max  *Includes one green screen group photo and extras are $5.  Book on weekends- Email ecoadventuresmd@gmail.com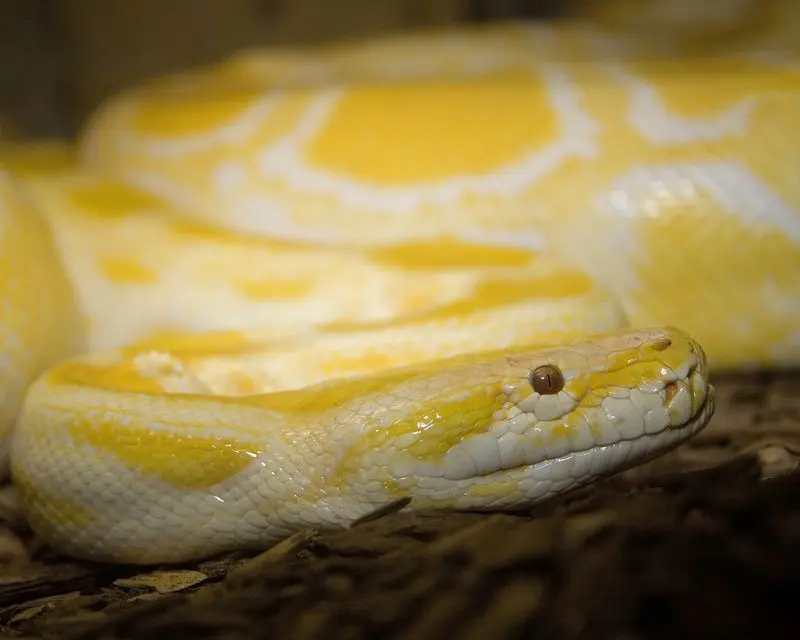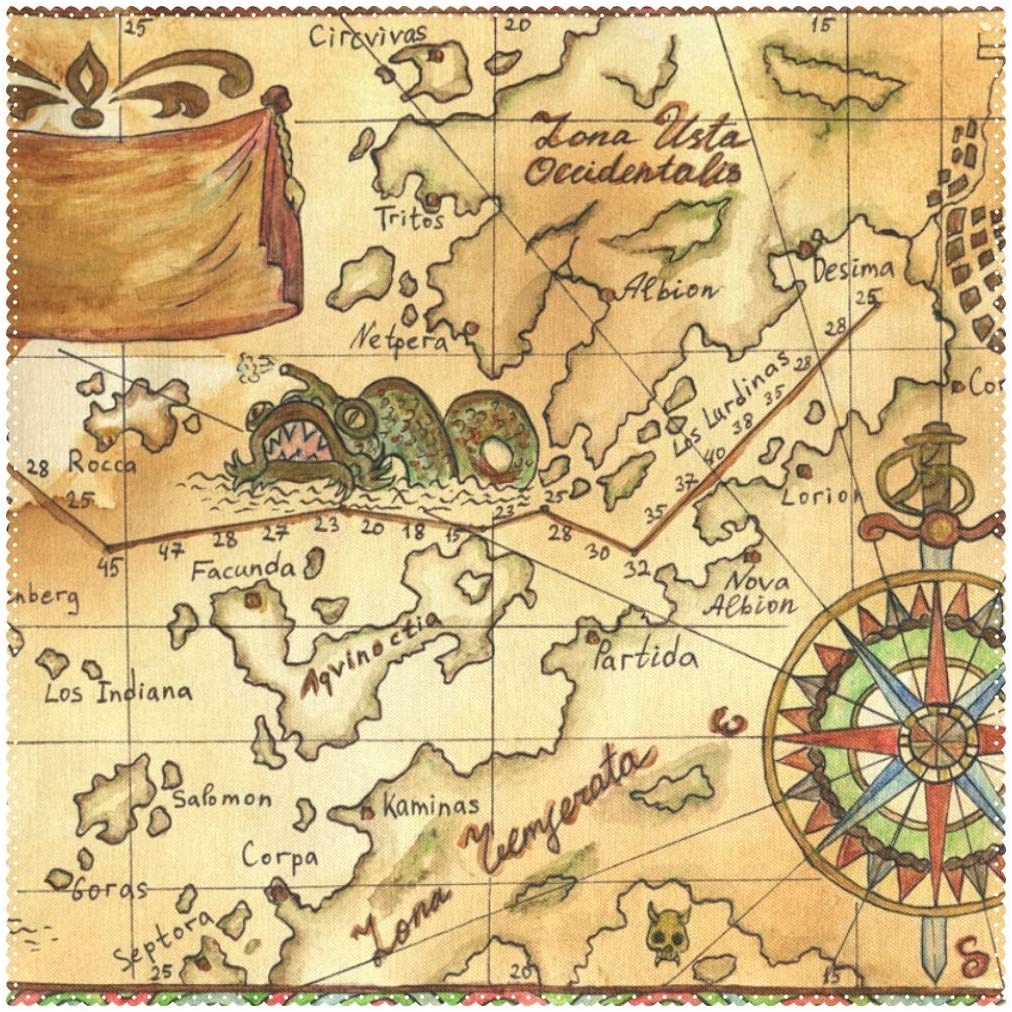 JUNGLE EXPRESS... IS BACK!
What is a Jungle Express?? Join us at Eco Adventures for a live animal presentation for the whole family! Visitors will meet, touch, and learn about some of our most loved animal ambassadors.
Fee: $15 per person (children under 2 are free)
*Must have a minimum of 6 paid participants for the program to run. Max of 15 participants due to social distancing requirements.
*Due to space limitations, we cannot accept free passes during Covid restrictions. Thank you for your understanding.
______________________________________________________________________________________________
DATES: June 27th 1-2pm SPECIAL CREEPY CRAWLIES CICADAS JUNGLE EXPRESS
SPACE IS LIMITED!!
May 29th-CREEPY CRAWLIES and native species Jungle Express Family Program.... THEY'RE HEEEERE! That's right it has been 17 years since these Creepy Crawly creatures emerged from the deep dark soil! Sure they are creepy, but did you know they are very important to the environment? Learn all about these flying, buzzing crawlies and other insects along with the regular cool reptiles you may see in your own backyard! It's Spring time 2021!! Don't want to miss this. $15 Space is limited! email to register ecoadventuresmd@gmail.com
If you don't see a date you would like, call us to book other dates: Every Saturday and Sunday must have a min of 6 people for it to run.
RSVP's and prepayment are required!!
COVID SAFETY: Families will be seated together and masks will be required to touch the animals. Temperature checks and prescreening waivers will be collected. We have a HEPA air filter with UBV light and extra ventilation. Social Distancing will be practiced.
To register- email ecoadventuresmd@gmail.com